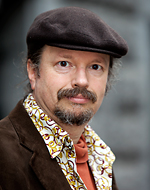 Dr. Leston Chandler Buell
(photo: Eduard Lampe)
So To Speak
is the translation agency and language services company of the American linguist Dr. Leston Chandler Buell, based in Amsterdam, the Netherlands. So To Speak provides professional-quality
translation services
,
editing and proofreading services
, and
language instruction
.
So To Speak is also registered under the Dutch name
Zo Te Zeggen
.
Native Speaker English
So To Speak guarantees native speaker English. That means error-free, natural-sounding, and professional English that uses the appropriate style for the intended audience. Dr. Buell has many years of experience in professional writing, translation, language instruction, and English-language editing and proofreading.
Translation
So To Speak can translate your texts into English from Dutch, Spanish, French, and Arabic. While some other translation services do little more than run your text through a free translation program, Dr. Buell will translate your document with thorough personal attention.
The basic rate is €0.11 per word, though a different rate may be applicable depending on the nature of the text. Please send your text to info@ZoTeZeggen.nl for a price quotation.
In the case of longer documents, So To Speak can translate one page of your document free of charge as a sample so that you can consider the quality of the work before submitting an order.
Editing and proofreading
Dr. Buell will gladly proofread texts which you have written in English and help work them up to professional quality. Mistakes will be corrected, and suggestions will be made. Additionally, you will also get some explanation about the corrections, so that you don't make the same mistakes the next time.
More information, including rates, can be found on the proofreading page.
English language instruction
In addition to translation and editing services, So To Speak also offers English language instruction. So To Speak can set up a specialized program for you in professional or academic English or in pronunciation. Classes can be given to groups or individuals at your home or office, at So To Speak (in downtown Amsterdam), or via Skype.
Other languages
Dr. Buell lived in Egypt for ten years, where he worked primarily as a translator and as a private instructor of Arabic as a foreign language. He has also taught numerous Arabic courses for the University of California, Los Angeles (UCLA) and Northwestern University. Dr. Buell can translate texts from Arabic to English and provide instruction in both Egyptian Arabic and Standard Arabic.
Dr. Buell also has years of experience with Spanish, French, and Esperanto and can offer translation and instruction in these languages as well.
In his academic career, Dr. Buell is a well-known specialist in African languages, and he can provide instruction in Swahili, Zulu, Xhosa, and Ewe.
About Dr. Buell
Leston Chandler Buell is an American linguist who received his doctorate in linguistics from the University of California, Los Angeles (UCLA) in 2005. He then worked for seven years as researcher and instructor at Leiden University and at the University of Amsterdam, where he retains guest researcher status. His scholarly articles have appeared in journals such as Lingua and Journal of African Languages and Linguistics.